I am writing this on my way back from a meaningful and extremely worthwhile BAM Alliance learning group session.
It was thought provoking. It was memorable.
It has the potential to be transformative.
I made new connections and relationships. I strengthened and renewed others.
It is the power of investing in moments.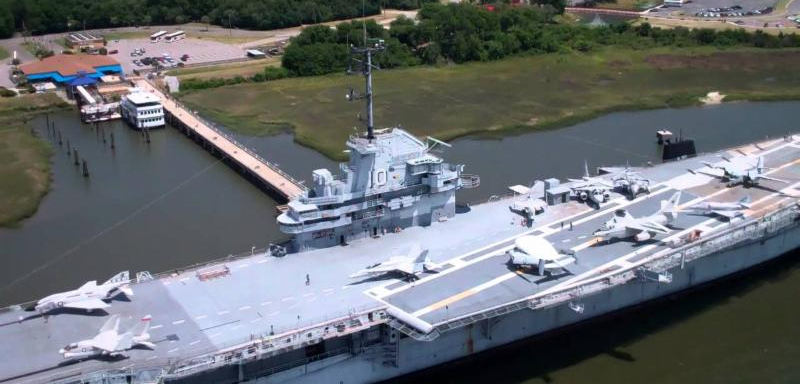 U.S.S Yorktown, Charleston, South Carolina
My three days in Charleston were successful because of the talented staff at BAM, our back office firm, who invested significant time and energy to create moments and experiences.  Additionally, I was intentional to take the time to plan for the session in advance.
One of the valuable additions to this meeting were two, 30 minute book review sessions. One of the books was The Power of Moments, by Chip and Dan Heath, which I highly recommend.
As financial advisors, we focus on investing, viewed financially. This book advocates investing time to plan and create more memorable and elevated experiences in all aspects of your life. 
The authors of this very readable book feel that "life and work are full of moments that are ripe for investment." They cover many aspects of life and settings, such as schools and education, families, businesses and organizations.
The Heath brothers feel "we must learn to think in moments, to spot the occasions that are worthy of investment….The "occasionally remarkable" moments shouldn't be left to chance! They should be planned for, invested in. They are peaks that should be built. And if we fail to do that, look at what we're left with: mostly forgettable." (Emphasis added)
Invest time in advance to plan peak moments and be intentional and creative about it. Make an effort to elevate the experience. For certain life moments and experiences like a trip, invest time to end the experiences with peak moments.
The authors write "when people assess an experience, they tend to forget or ignore its length-a phenomenon called "duration neglect." Instead, they seem to rate the experience based on two key moments: (1) the best or worst moment, known as the "peak"; and (2) the ending." This is called the "peak-end rule." It is not the length of the vacation or experience which counts, it is about the peak moment during the experience and what happens at the end of the experience that creates the memory impact.
This is particularly true with vacations, as we remember the peak moments of a trip and the ending. I can attest to this from my vacation to Florida in March. It was good, but not the best. My memory of this Florida vacation was negatively impacted because during the last two days it rained and my wife was sick. We had a bad ending, in the authors' terms.
These were things beyond our control. However, I assume that if the rain and Felicia getting sick had occurred at the beginning of the trip, rather than at the end of our vacation, I'm pretty sure the authors would be correct and I would have a more favorable memory of this trip.
I accomplished a number of objectives during these few days at the BAM Masters Forum event because I was intentional. I wrote out goals before arriving, people I wanted to connect with and talk to about certain matters. Other discussions occurred spontaneously and without any prior planning.
For this 12th annual gathering of fellow advisors from across the country and a number of BAM staff members and executives, BAM requested that we bring "wedding attire" for one dinner, so I brought a sport coat and nice slacks, rather than the normal resort attire. They asked us to participate in a southern bow tie competition, so I borrowed a bow tie and wore one for the first time. It made the evening quite fun and special. It elevated the evening. We took group pictures and admired the diverse collection of bow ties. The early planning resulted in a more memorable evening for all.
My learning group session ended with another memorable dinner on Tuesday night. My flight home was Wednesday at 2 pm.
Wednesday morning, I could have slept in, packed and gone to the airport. I did things differently, with great results.
Wednesday at 9 am I toured the World War II aircraft carrier U.S.S. Yorktown, originally commissioned in 1942 that was docked near my hotel. This was incredible experience. As I walked up and down the ship's steep stairs, it's 6 levels and the enormous flight deck filled with planes of different decades, I was filled with gratitude and appreciation for those who served on these ships, flew the planes that took off and landed, those who lost their lives on missions and the hard work and ability of those who designed and built these behemoths.
After visiting the ship, instead of eating hotel food for lunch, I took an Uber into downtown Charleston for some great southern fried chicken at Leon's Fine Poultry and Oyster Shop (well worth it!!). Even though I was rushed to arrive at the airport, the last minute stress will not be my memory a year from now. My positive memory of the end of this trip will be of the incredible aircraft carrier and the delicious fried chicken. 
I read most of The Power of Moments. There are many more valuable insights to be gained from this book than just the few I highlighted. I plan to apply some of these concepts within our firm and in my life. This will take effort, as the authors note, but it would be well worth the investment and time to implement some of these concepts and ideas.
Who should read this book: Almost everyone. Those who want to have a more impactful and enriching life, or help others to have one. Certainly parents, business and non-profit leaders, teachers, coaches and medical professionals.
http://www.wassermanwealth.com/wp-content/uploads/2013/09/WWMnewweblogo.png
0
0
Brad Wasserman
http://www.wassermanwealth.com/wp-content/uploads/2013/09/WWMnewweblogo.png
Brad Wasserman
2018-05-03 16:23:20
2018-05-03 16:23:20
The Power of Investing In......